Monday, April 8, 2019, 5:30pm
Albuquerque Center for Peace and Justice
202 Harvard St. SE, Albuquerque
Presented by Veterans for Peace:
Vietnam Veterans Unbroken: Conversations on Trauma and Resiliency
Writer and Editor: Jacqueline Murray Loring
Published by McFarland & Company Publisher
*********************************************************-
Friday, April 19, 2019, 9am-Noon

National League of American Pen Women
Yucca branch, Albuquerque, NM
Every One Has Their Favorite KiMo Theatre Story!
Jacqueline Murray Loring will discuss the KiMo Theatre: Fact & Folklore book newly published by SouthWest Writers. The meeting will include a PowerPoint presentation of photographs from the book and a discussion of the iconic theatre's 90+ year history.
*********************************************************-
Wednesday, May 8, 2019, 6:30pm
Kimo Theatre
5th and Central Ave, Albuquerque, NM 87102
Historic Kimo Theatre hosts book launch!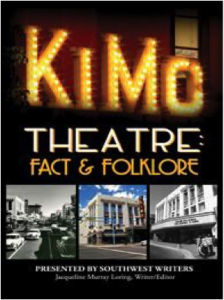 On Wednesday, May 8, 2019 at 6:30 p.m., the City of Albuquerque is sponsoring a free event at the historic KiMo Theatre for the book launch of KiMo Theatre: Fact & Folklore.
Appearances by KiMo Theater performing artists will include the Kalpulli Ehecatl Aztec Lead Dancer, the New Mexico Young Actors Guild, the Watermelon Jug Band, and others. There will also be a silent auction of KiMo memorabilia.
KiMo Theatre: Fact & Folklore, presented by SouthWest Writers and writer/editor Jacqueline Murray Loring, is a collection of newly-told stories, articles, memoirs, insights, opinions, never-before-heard remembrances, and researched facts about the KiMo as a performing arts theatre and a movie palace. Past employees, elected officials, performers, and audience members share remembrances of the Bachechi family, the theatre's construction in 1927, the 1977 vote by Albuquerque citizens to buy and preserve the building, the theatre's closings for renovations, and its murals, art, and (disputed) paranormal activity.
Signed copies of the book will be available for purchase.
SouthWest Writers (SWW) is a nonprofit 501(c)(3) organization, located in Albuquerque, New Mexico, devoted to helping both published and unpublished writers improve their craft and further their careers.
If you would like more information about this event, contact ReVaH Loring at (505) 830-6034 or Info@SWWriters.com.
********************************************************-
Tuesday, June 4, 2019, 5pm
The New Mexico Veteran's Memorial
1100 Louisiana Blvd. SE, Albuquerque
All are welcome.
Vietnam Veterans Unbroken: Conversations on Trauma and Resiliency
Writer and Editor: Jacqueline Murray Loring
Published by McFarland & Company Publisher
******************************************************
Tuesday, June 25, 2019, 9am
WCAI, NPR for the Cape, Coast and Islands
The Point with Mindy Todd
WCAI 90.1. WNAN 91.1. WZAI 94.3
A Service of WGBH Radio
Woods Hole, MA 02543
http://capeandislands.org/
*****************************************************
Thursday, June 27, 2019, 6pm to 8pm
Cape Cod Museum of Art
60 Hope Lane
Dennis, Cape Cod, Mass.
https://www.ccmoa.org/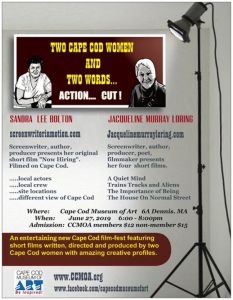 *****************************************************
Monday, July 1, 2019, 7 to 9pm
Sandwich Arts Alliance
Route 6A, Sandwich, Cape Cod, Mass.
https://www.sandwichartsalliance.org/
"Art of Interviewing"
With Christie Lowrance
*****************************************************
July 10, 2019 at 7pm
Cultural Center of Cape Cod
307 Old Main St, South Yarmouth, MA 02664
 (508) 394-7100
Vietnam Veterans Unbroken: Conversations on Trauma and Resiliency
Writer and Editor: Jacqueline Murray Loring
Published by McFarland & Company Publisher
**************************************************
Friday, July 12, 2019
Cape Cod Writers Center
17 Shad Hole Rd.
Dennisport, Mass
http://capemedia.org/
Books and the World
Community Media
Television interview
*****************************************************
September 13 to 15, 2019
SouthWest Writers
&
Military Writers Society of America Writers Conference
Hotel Albuquerque, Albuquerque, NM
https://www.southwestwriters.com/